AA/Gassers & AA/Supercharged Promos(2 DVD Set)
$15.00 + S&H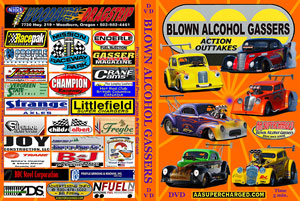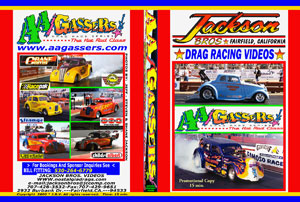 The AA/Gassers will always deliver wild and noisy action. The very popular 1930's and '40s body styles keep the tradition and history of "Gassers" alive and well. These AA Supercharged beasts now run on alcohol, but maintain the look of the type of Gassers that we all loved in the 60's. A wing of some kind is now a must for these short wheel based monsters, reaching elapsed times in the sixes and speeds over 200 mph. These 2 Promotional DVDs will leave you longing to get to that next race where they will appear.
Running Time: 23 min.



Available in DVD format.

(23 min)

If you experience any viewing problems with your JBV DVD, please contact at your earliest convenience at 707-426-3532 or E-mail us at jacksonbros2@att.net.
Defective DVDs will be replaced. Customer return shipping charges will be credited toward another JBV program or repaid by check.