Lions-The Greatest Drag Strip (Parts 1-2-3)
$39.00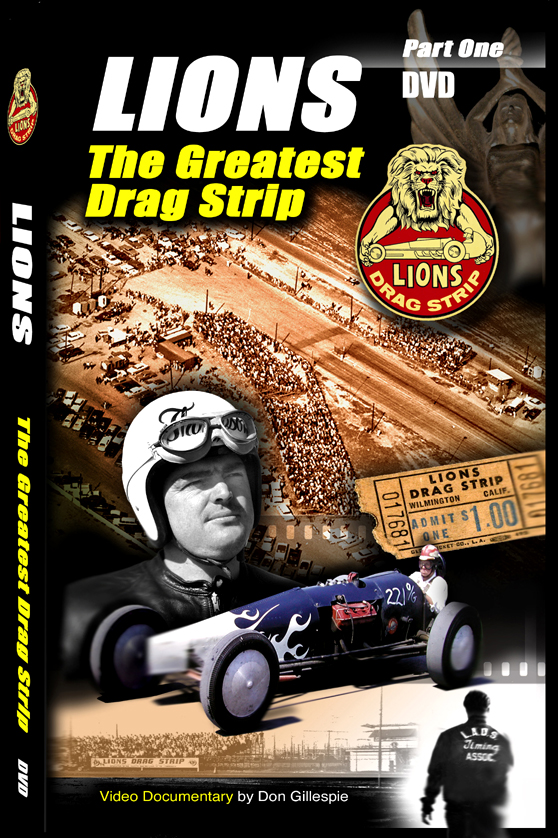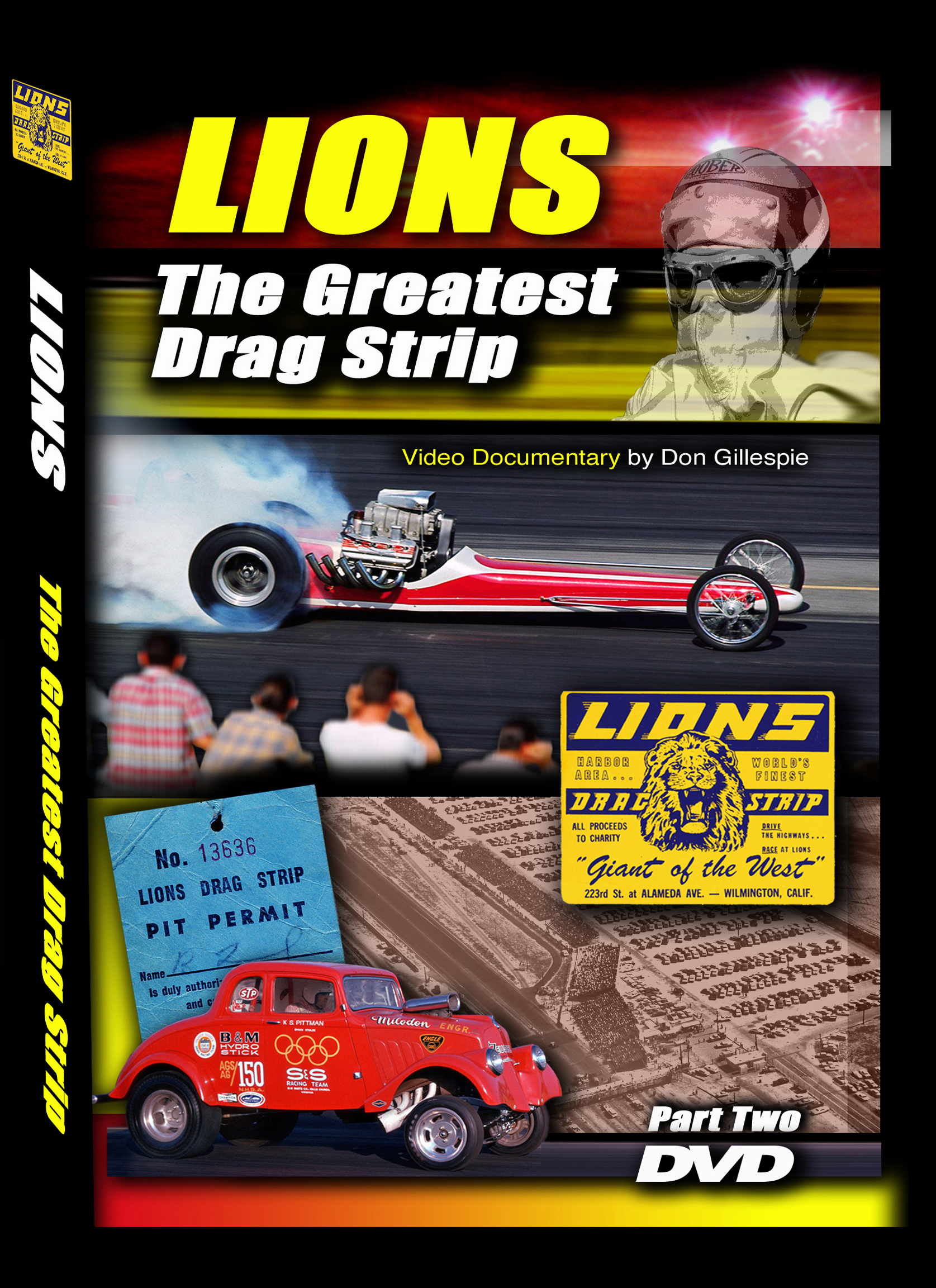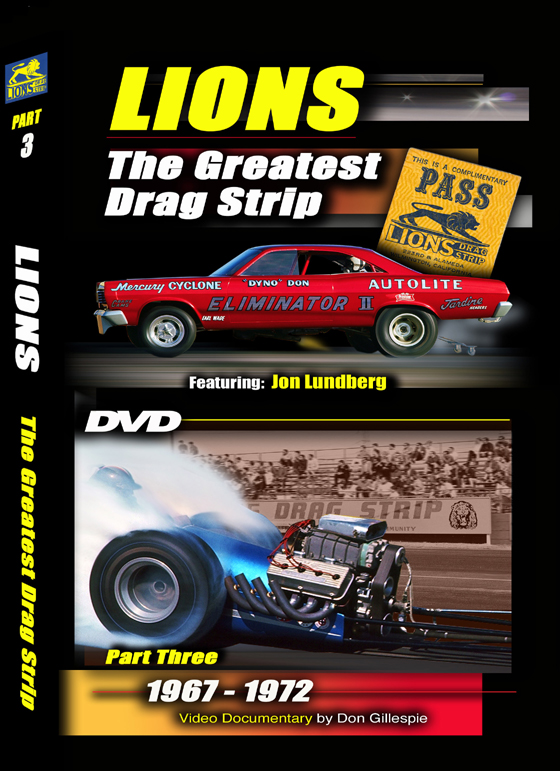 Available in DVD format.
LIONS THE GREATEST DRAG STRIP (Part One/1955-'62)
DVD by Don Gillespie: Historical documentary on one of drag racing's greatest racetracks; rare film, photos and interviews with sport's pioneers
This is part one (of the three-part) quintessential video documentary on the sport of drag racing's most historic quarter-mile facilities, Lions Drag Strip. It took veteran photojournalist Don Gillespie in excess of four years to compile hundreds of photos, films, research, and interviews from more than 30 individuals. The nearly two hour (1-HR, 54 MINS) production (in DVD format), details the Long Beach, CA-based track's inception in 1955 (w/Mickey Thompson as its first manager), through the lifting of the "fuel ban" in early '62. Via Thompson, Lions was the first to use electronic starting lights, was LA-based resulting in giant crowds, and played host to some of the largest meets in history, especially at a time when the sport was in its early, pioneering stages. A must have for all who raced or attended an event there, or simply ever heard about agruably the most mystic of all straight-line facilities. This is a definite keeper for lovers of nostalgia, who long for a well-done trip back to racing's yesteryear. Incredible film footage includes sport's first ever "live" TV broadcast on KTTV, including interviews with racers Allen "Lefty" Mudersbach, Jack Chrisman, Tom McEwen, Don Prudhomme, with Thompson and Bill Welch as emcees.
Lions - THE Greatest Drag Strip (Part Two/1962-'66)
By Don Gillespie: Historical Documentary's 2nd Volume on One of Drag Racing's Greatest Tracks; Rare Film, Photos, Interviews with Its Pioneers
In-depth documentary combines rare film clips and incredible photography with firsthand accounts. Long Beach, CA-based track was pivotal in the sport's early growth, with many of the great names taking part in carving history. The latest installment by veteran motorsports journalist Don Gillespie picks up speed in 1962, when nitro cars returned after a 5-year ban under founding manager, Mickey Thompson. The (1-HR, 40-MIN) presentation concludes near the end of '66, with explosive growth in dragsters, supercharged coupes, early funny cars, etc. In 1962 newly formed 7-second dragster teams included Greer-Black & (Don) Prudhomme, plus "TV" Tommy Ivo, both among more than two-dozen interviewed on camera. Roland Leong recounts his accident in the "Hawaiian". Don Garlits recalls a colorful match race involving Chris Karamesines. Rick Stewart, shown in a breathaking finish line crash, recounts waking up in the hospital as the Watts Riots began. "Wild Willie" Borsch explains how he drove his fuel altered using one hand, from uncovered audiotape. Other appearances include Tom McEwen, John Force, Gene Mooneyham, Larry Sutton, C.J. Hart, Ed Iskenderian, Ralph Guldahl, Jr., Don Prieto, Dave Wallace, Pat Foster, Paula Murphy, Ronnie Rapp, Dale Armstrong, Chris Karamesines, and many others. Top Fuel dragsters also reached 200 MPH. Match race draws included the Willys coupes of Stone-Woods-Cook versus "Big John" Mazmanian, the stands packed to capacity. Stockers evolved into altered wheelbase machines; carbs to injectors, gas to nitro, then blowers - and funny cars were born. Emerging, too, were breathtaking streamliners, exhibition cars, junior fuelers, gas and fuel altereds, coupes, motorcycles, etc. Mickey Thompson's departure saw C.J. "Pappy" Hart take over, whom promptly ended NHRA sanction. Soon, epic, rival AHRA dual stocker/dragster championships took place, plus the racer-formed UDRA held a series of events of similar national caliber.
LIONS THE GREATEST DRAG STRIP (Part 3/1967-'72)
by Don Gillespie: Third and final video documentary on sport's most famous drag strip (Long Beach, Calif.); rare photos, film, interviews with leading pioneers.
Third and final episode (110-minutes) on historic Long Beach, CA drag strip features 40-plus interviews with top pioneers, including; Don Garlits, Ed Iskenderian, Hayden Proffitt, Gas Ronda, Bill "Maverick" Golden, Robert Balogh, Carl Olson, Sush Matsubara, Tom McEwen, Pat Foster, Tommy Ivo, Dale Pulde, Don Long, C. J. Hart, Larry Sutton, etc. Begins with nitro racing's version of a heavyweight bout, as Top Fuel dragsters fight the growing trend of AFX and early Funny Cars. Huge meets ensued. Innovation led to quicker ET's - and speeds. Funny Cars roared into the 7-second zone. Top Fuelers blazed past 220 miles-per-hour. With increased performance came danger. Straining clutches and superchargers resulted in spectacular fires, wheel-stands and crashes, with drivers in extreme peril. One of the more dramatic segments depicts the AHRA Grand American in early 1970, when Top Fuel legend "Big Daddy" Don Garlits lost part of his right foot in a horrific starting line transmission explosion. Graphic film of the accident surfaced only recently. Garlits recounts the incident, plus his equally stunning return months later with a rear-engine dragster that likewise changed the sport forever. Weekly campaigners included Jr. Fuel and Gas Dragsters, AA/Gas Supercharged, AA/Fuel Altered, Injected Funny Cars, plus wild exhibition vehicles. Manager C.J. Hart departed in 1971, replaced by innovator, Steve Evans, who switched from AHRA to NHRA sanction, and produced events like the giant Grand Premier, which saw the track's largest number of incidents. When noise complaints spelled the end in December 1972, Lions held the racing equivalent of Woodstock, with "The Last Drag Race", a colossal, fitting, yet tear-filled end to one of the sport's most historic, and revered tracks.
(4 Hours 44 Minutes)

If you experience any viewing problems with your JBV DVD, please contact at your earliest convenience at 707-426-3532 or E-mail us at jacksonbros2@att.net.
Defective DVDs will be replaced. Customer return shipping charges will be credited toward another JBV program or repaid by check.