Snake & Mongoo$e Movie
$10.00 + S&H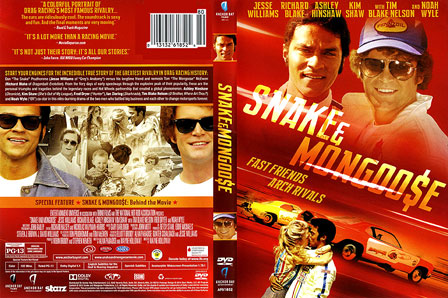 The Jackson Bros were instrumental in the making of this "real" movie with their contributed historical film footage of both the Snake & Mongoose in their hey-day. Over 30 historical 1960s & '70s clips of the Jackson Bros were used. The movie depicts the colorful rivalry of the Mongoo$e & Snake. A big highlight of the movie is when Jim Nicoll's AA/Fuel Dragster broke in half at the top end while racing the Snake (footage by ABC Sports at the time). Jackson Bros film footage was also used in the "trailer" /promo video of the movie.
Running Time: 102 min. Rated-PG-13



Available in DVD format.

(102 min)

If you experience any viewing problems with your JBV DVD, please contact at your earliest convenience at 707-426-3532 or E-mail us at jacksonbros2@att.net.
Defective DVDs will be replaced. Customer return shipping charges will be credited toward another JBV program or repaid by check.