Ted Taylor & The WW-2 AA/Fuel Dragster
Specially Priced 4 DVD Set
$39.00 plus $6.00 S&H - CA Tax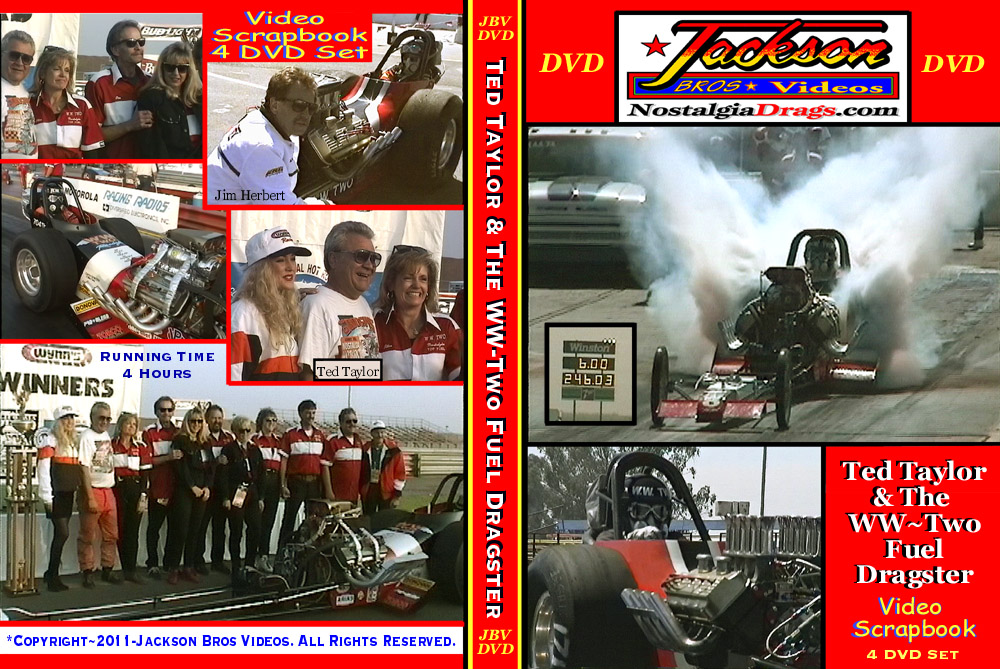 Available in DVD format.

Ted Taylor became the biggest name Fuel Dragster driver in all of Nostalgia Drag Racing from 1992 through 1996. Ted is from the Sacramento, Calif area. With crew chief, Jim Herbert, providing the horsepower and expertise in Fuel Dragster racing, the WW-2 AA/FD was thee car to beat at the big Goodguys Meets and including the California Hot Rod Reunions, on the West Coast. Tracks include Bakersfield, Sears Point (Infineon) & Sacramento Raceways. You will watch Ted start out in an injected Hemi fuel dragster and then into the blown/supercharged ranks, out running everyone he competed against most of the time. The car set new Elapsed Time and Speed Records along the way. Ted was a "real driver" who could hold the "pedal to the metal" the full quarter mile. You will also see many of the biggest contenders of that 5 year period. The cackle of NITRO and the thundering speed of Top Fuel is captured in all its glory. The actual sound of the cars has not been diluted or altered.
(4 DVD Set-4 hours Approx. All color with un-restricted Live Action Audio)

If you experience any viewing problems with your JBV DVD, please contact at your earliest convenience at 707-426-3532 or E-mail us at jacksonbros2@att.net.
Defective DVDs will be replaced. Customer return shipping charges will be credited toward another JBV program or repaid by check.