| | |
| --- | --- |
| | |
| | |
A.N.R.A. "ACTION OUTTAKES"
$24.00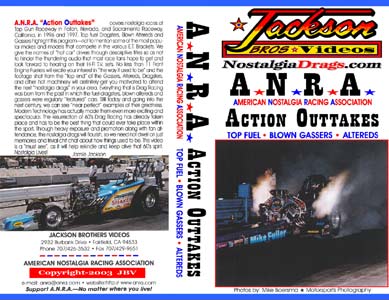 Available in VHS or DVD formats.



Covers nostalgia races at The Top Gun Raceway in Fallon, Nevada, Sacramento Raceway, CA, IN 1996 AND 1997. Top Fuel Dragsters, Blown Altereds and Gassers highlight this program-not to mention some of the most popular makes and models that compete in the various E.T. Brackets. We give the names of "Hot Car" drivers through descriptive titles so as not to hinder the thundering audio that most race fans hope to get and look forward to hearing on their Hi-Fi T.V. sets. No less than 11 Front Engine Fuelers will excite your interest in " the way it used to be " and footage shot from the "top end" of the Gassers, Altereds, Dragsters, and other hot machinery will definitely get you motivated to attend the next "nostalgia drags" in your area. The resurrection 60's Drag Racing has already taken place and has to be the best thing that could ever have taken place within the sport. Through heavy exposure and promotion along with fan attendance, the nostalgia drags will flourish, so we need not dwell on just memories about how things used to be. Nostalgia Lives!

(90 Minutes)

If you experience any viewing problems with your JBV DVD, please contact at your earliest convenience at 707-426-3532 or E-mail us at jacksonbros2@att.net.
Defective DVDs will be replaced. Customer return shipping charges will be credited toward another JBV program or repaid by check.