| | |
| --- | --- |
| | |
| | |
BAD BOY ALTEREDS 1
$19.00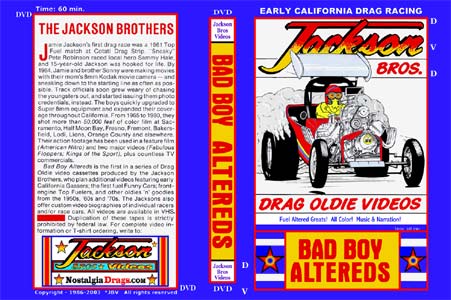 Available in VHS or DVD formats.
BAD BOY ALTEREDS 1


ALL-color film footage dating to 1964. Dedicated to the AA/Fuel Altereds, this video depicts the typical "wild and crazy" type of action these cars displayed. Their unwillingness to "go straight" will not be a faded remembrance or a dusty photo or even small talk about the good old days...NO! Fuel Altereds are still charging down the 1320 on this Jackson Bros. video. Rare fuel altereds include: (Marcellas & Borsch) "Winged Express," (Rich Guasco) "Pure Hell," (Dave Hough) "Nanook," (Moore-Oates-Bradley) "The Mob," Burkholder Brothers, (Fred Sorensen) "Warlock I," (Leon Fitzgerald) "Pure Heaven," (Nick Otto) "Warlock II," (Rod Hynes) "Coors Light," (Richard Langson) Texas Ranger," "Quality Auto," Thomas & Pritchard, Higley & Hubbard, Trillo Brothers, "The Scrounger," "Savage Jr.," "Blue Max," Mondello's Porting Service, "Instant T" & "Black Magic" plus many more hard charging competition altereds. (60 Minutes)

If you experience any viewing problems with your JBV DVD, please contact at your earliest convenience at 707-426-3532 or E-mail us at jacksonbros2@att.net.
Defective DVDs will be replaced. Customer return shipping charges will be credited toward another JBV program or repaid by check.