BAD BOY ALTEREDS 2
$24.00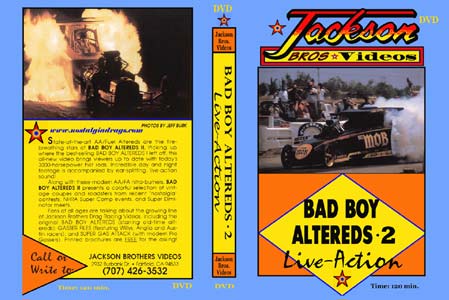 Available in VHS or DVD formats.


Modern day Fuel Altereds are just as wild and squirrelly as they were in the 60's. The unrestricted sound of these and many other altereds found in this program will satisfy your hunger for that "on line" noisy, supercharged thunder! Wild footage includes Richard Langson's "Texas Ranger," Impulse, Coors Light, The Outlaw, The Trillo Bros., Law & Disorder and a special workup on the awesome "Mob" Fuel Altered. Nostalgia and Comp Altereds included. Fuel Altereds Forever !

(120 Minutes)

If you experience any viewing problems with your JBV DVD, please contact at your earliest convenience at 707-426-3532 or E-mail us at jacksonbros2@att.net.
Defective DVDs will be replaced. Customer return shipping charges will be credited toward another JBV program or repaid by check.