FAMOSO MARCH MEET OLDIES
1959 & 60 ...Plus More...!
$19.00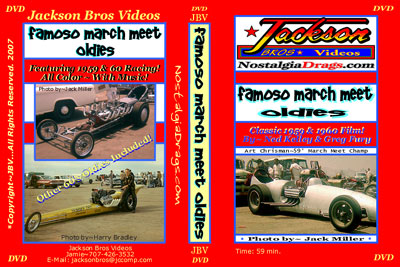 Available in VHS or DVD formats.

All color original film footage just recently discovered in 2007. Jackson Bros film contributors, Greg Fury and Ned Kelley, from Washington, has allowed the Historical Drag Racing World to view some of the best ever film footage of the first 2 Bakersfield March Meets. The 59' race brought Don Garlits in from Florida, for the first time, to challenge the "Best of the West Coast", however, Art Chrisman beat out Tony Waters for the Top Eliminator title that day. Garlits made some major adjustments after that race to become more competitive and the greatest known Drag Racer of all times. Other legendary racers were born out of the first 2 March Meets.
NAMES INCLUDE: Jack Chrisman, Cyr & Hopper, Hashim-Hylton-Crossley,Tommy Ivo, Don Prudhomme, Leffler & Loukas, Eddie Hill, Speed Sport Roadster, Bobby Langley, "Jocko" Johnson, Romeo Palamedes, Masters & Richter, Don Jensen, Gary Cagle, Lefty Muddersbach, Hank Vincent, Mickey Thompson, Frank Cannon, Chris Karamesines, Don Hampton, Jim McLennan, Ted Gotelli, Tony Nancy, Jr. Thompson, Bernie Mather, Wayne King, Warren & Coburn, Scottie's, Art Malone, Jim Nelson, Setto Postoian, and many other legendary racers, dragsters, roadsters and coups. This is a partial list! This first edition has music only background. We will research for more ID's and a later edition of this program may be narrated to give everyone their just recognition in the March Meet Oldies archives. This program also includes other 60's March Meet rare cars like, Big John Mazmanian, Stone-Woods & Cook, Dick Landy, Butch Leal, Smirnoff AA/FD, by contributors Jack Miller, Bob Bird, Ted Gotelli, Paul Martini, and other JBV friends.

(59 Minutes)

If you experience any viewing problems with your JBV DVD, please contact at your earliest convenience at 707-426-3532 or E-mail us at jacksonbros2@att.net.
Defective DVDs will be replaced. Customer return shipping charges will be credited toward another JBV program or repaid by check.