FRONT ENGINE FUELER
$24.00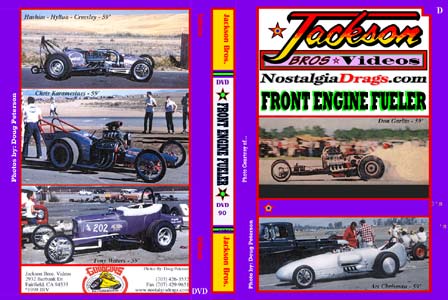 Available in VHS or DVD formats.


You'll get nothing but today's Front Motored Fuel Dragsters along with 45 minutes of rare, never before seen film footage shot from 1959 to 1962 by the Jackson Bros. and their buddies. Big name drivers of the 60's like Garlits, Prudhome, Kallita, Chris Karamasines, James Warren and many more are included along with the big name drivers of today like Ted Taylor, Paul Romine, Bill Dunlap, Jerry Steiner, Dan Horan, Bob Hallock and many more ! The original film footage will be accompanied by music & narration while the modern footage will deliver full unrestricted sound of nitro breathing Top Fuel Dragsters.

(90 Minutes)

If you experience any viewing problems with your JBV DVD, please contact at your earliest convenience at 707-426-3532 or E-mail us at jacksonbros2@att.net.
Defective DVDs will be replaced. Customer return shipping charges will be credited toward another JBV program or repaid by check.