THE HIGH SPEED MOTORSPORTS -
Nostalgia Top Fuel Racing Team - 2004
$19.00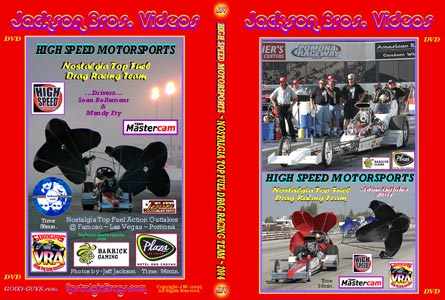 Available in VHS or DVD formats.

"Action Outtakes" depicts their 2 fuelers racing other top name cars at the Goodguys VRA events. All the smoke and thunder these cars produce are captured by the Jackson Bros, close up and intense, without any audio restrictions. There's no lengthy chit-chat, but true spontaneous excitement when Mendy Fry tells you what it's like to go 251mph just after blasting off a 5:87sec. pass in the MasterCam fueler. That run made Mendy the first lady Drag Racer to go over 250mph in a Nostalgia Top Fuel Dragster. Sean Bellemeur drives the Plaza Hotel fueler and shows great promise as the new "young hero" of the class. His list of wins, the first year out, are impressive. If you enjoy the excitement of Nostalgia Top Fuel, you will not be disappointed with this High Speed "Action Outtake" smoker.
Tracks include, Famoso, Las Vegas, & Pomona.
(56 Minutes)

If you experience any viewing problems with your JBV DVD, please contact at your earliest convenience at 707-426-3532 or E-mail us at jacksonbros2@att.net.
Defective DVDs will be replaced. Customer return shipping charges will be credited toward another JBV program or repaid by check.