HOT ROD THUNDER
$19.00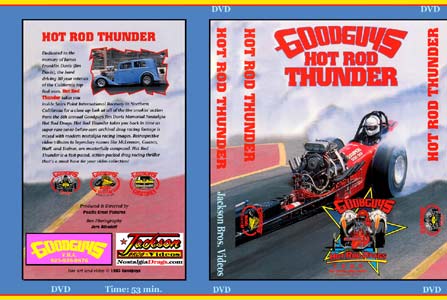 Available in VHS or DVD formats.


Better know as the 5th Annual Jim Davis Memorial Hot Rod Drags. Every category of nostalgia covered with special old timer interviews. Featured speakers include Jim McLennan, Rich Guasco, Tom Prufer, and Gerry Steiner. Heavy coverage of all hot classes, include Top Fuelers, Gasser, etc. This is a Goodguys Association event tape, held at Sears Point, CA May 1993.

(60 Minutes)

If you experience any viewing problems with your JBV DVD, please contact at your earliest convenience at 707-426-3532 or E-mail us at jacksonbros2@att.net.
Defective DVDs will be replaced. Customer return shipping charges will be credited toward another JBV program or repaid by check.