NOR ~ CAL FUELERS 1960'S
Video Scrapbook #1
$19.00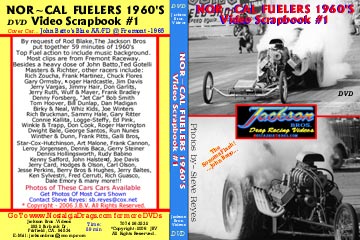 Available in VHS or DVD formats.

"Cover Car…John Batto's Blue AA/FD at Fremont - 1965
By request of Todd Blake, the Jackson Bros. put together 59 minutes of 1960's Top Fuel action to include music background. Most clips are from Fremont Raceway.
Besides a heavy dose of John Batto, Ted Gotelli, Masters & Richter, other racers include:
Rich Zoucha, Frank Martinez, Chuck Flores, Gary Ormsby, Hoger Hardcastle, Jim Davis, Jerry Vargas, Jimmy Hair, Don Garlits, Jerry Ruth, Wulf & Mayer, Frank Bradley, Denny Forsberg, "Jet Car" Bob Smith, Tom Hoover, Bill Dunlap, Dan Madigan, Birky & Neal, Whiz Kids, Joe Winters, Rich Bruckman, Sammy Hale, Gary Ritter, Connie Kallita, Logge-Steffy, Ed Pink, Winkle & Trapp, Don Cook, Roger Harrington, Dwight Bale, George Santos, Run Nunes, Winther & Dunn, Frank Pitts, Galli Bros, Star-Cox-Hutchinson, Art Malone, Frank Cannon, Leroy Jorgensen, Dennis Baca, Gerry Steiner, Dennis Hollingsworth, Rudy Babino, Kenny Safford, John Halstead, Joe Davis, Jerry Card, Hodges & Olson, Carl Olson, Jesse Perkins, Berry Bros & Hughes, Jerry Baltes, Ken Sylvestri, Fred Cerruti, Rich Guasco, Dale Emory, & many more!!!
Photos of These Cars Available
Get Photos of Most Cars Shown
Contact Steve Reyes: sb.reyes@cox.net
Copyright - 2006 J.B.V. All rights reserved.

(59 Minutes)

If you experience any viewing problems with your JBV DVD, please contact at your earliest convenience at 707-426-3532 or E-mail us at jacksonbros2@att.net.
Defective DVDs will be replaced. Customer return shipping charges will be credited toward another JBV program or repaid by check.