RETURN OF THE BAD BOYS
$24.00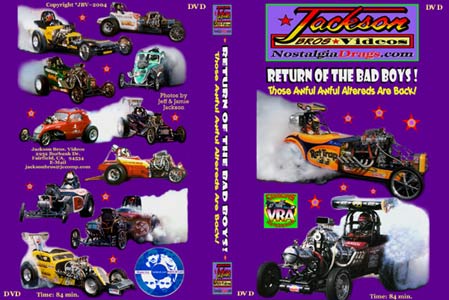 Available in VHS or DVD formats.


Those Awful-Awful Altereds are back! Many of the 60's Altereds have been restored to life and they're still wild as ever. Featured cars include The Rat Trap and The Marcellus & Borsch restored AA/FAs. Other cars include, Pure Hell, Pure Heaven, Nanook, Toco-Harper-Garten, The Mob, Burkholder Bros, Randy Bradford, Woody "Pops" Duke, Panic, J&S Speed Shop, Blairs, and many more Bad Boy Altereds of the 2000's. This time, you get to see them and hear them on DVD as well as VHS. The color and audio is outstanding as the Jackson Bros are now using industrial digital video cameras to capture the excitement of Nostalgia Drag Racing. Tracks include Bakersfield, Sears Point, and Las Vegas.

(84 Minutes)

If you experience any viewing problems with your JBV DVD, please contact at your earliest convenience at 707-426-3532 or E-mail us at jacksonbros2@att.net.
Defective DVDs will be replaced. Customer return shipping charges will be credited toward another JBV program or repaid by check.