TIME TRAVELING THE 1320 CD
$12.00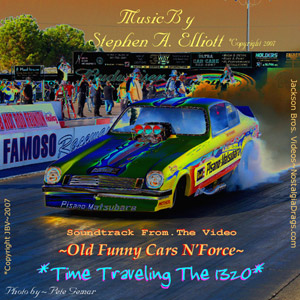 Available in CD format

CD Description
The jazz rock soundtrack by young Sacramento, CA. musician, Stephen Elliott, compliments the graphic action and color of the video, Old Funny Cars N'Force. The CD, "Time Traveling The 1320" that comes with the DVD allows you to enjoy the music while driving down the highway, get togethers, working around the house, or just plain "working out". The Jackson Bros did not have sound cameras in the 60's and 70's, but a video with good travelin' background music always adds flavor to the visual experience of watching the legendary Funny Car Racers of the 1960s & 70s.
CD Soundtrack From The Video....Includes 18 min. of bonus music by Stephen Elliott....(Alternative Jazz Rock Instrumental).
(78 Minutes)

If you experience any viewing problems with your JBV DVD, please contact at your earliest convenience at 707-426-3532 or E-mail us at jacksonbros2@att.net.
Defective DVDs will be replaced. Customer return shipping charges will be credited toward another JBV program or repaid by check.