4 DVD Value Pack Includes >>>
Gasser Files 1 & 2---Old Funny Cars N'Force
The Shoebox Dream---Return Of The Bad Boys.
$49.00

All Videos Available On DVD. Call For VHS Format Availability.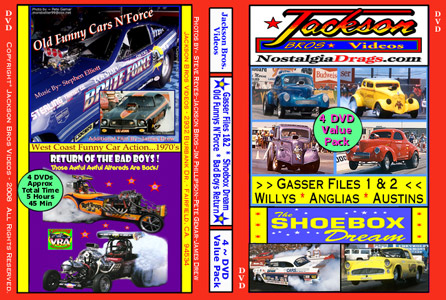 4 DVD Value Pack


DVD Description
*5 Hrs & 45 Min. of 4 of the Jackson Bros BEST sellers at a phenomenal price

*The 60's Gassers, featuring some of the greatest legends of the class...Stone-Woods & Cook & Big John Mazmanian, coupled with live action Nostalgia Gassers.

*The 70's Funny Cars featuring the BIGGEST names of the day at legendary Fremont Raceway and put to a classy jazz rock theme. The Jackson Bros were close to the cars and their slow motion camera work is second to none.

*The Return of the Wild & Wacky Altereds and their knack for their getting UNRULY. Unrestricted Audio...! Loud and Wild...!

*The Original Shoebox Chevy Cars & Blown Door Slammers like Charles Carpenter, Dave Riolo, Rob Vandergriff, Wayne Torkelson, Bob Bunker, John Scialpi, Jeff Littleton & many more.

PRICE: $49.00... Plus $5.00 S&H (CA. Tax Applies)

SPECIAL "Christmas Time" OFFER>>> Buy the 4 DVD Wild Pack & 4 DVD Value Pack combined 2 Box--8 DVD package for only $100.00....(Includes S & H)


If you experience any viewing problems with your JBV DVD, please contact at your earliest convenience at 707-426-3532 or E-mail us at jacksonbros2@att.net.
Defective DVDs will be replaced. Customer return shipping charges will be credited toward another JBV program or repaid by check.